Overheard in Finance/Accounting team meeting: "The HR department doesn't understand the numbers."
Overheard in Human Resources team meeting: "The Finance / Accounting department doesn't get people."
Sound familiar?
Bridging the gap between HR and Finance doesn't have to be a challenge. From recruiting, to hiring, to training and retaining…. Whether acquiring, building or integrating… your organization is run by people.
How they show up, how they work together, how they feel about what they're doing – all impacts the performance of the employee, the team, the department, the division and the organization as a whole.
It's all connected.
Get it wrong, and people disengage, your culture erodes, turnover increases, performance declines and so does the value of the business. Team NEW ROI brings a veritable thought-leader collaborative to help to identify the problem areas and develop measurable solutions to improve performance and increase the value of the enterprise.
"The value of a business is a function of how well the financial capital and the intellectual capital are managed by the human capital.  You'd better get the human capital part right." – Dave Bookbinder
If you'd like to learn more, please email Dave@NEWROI.com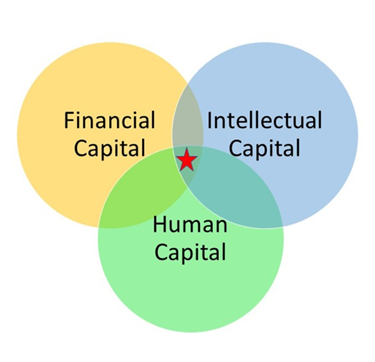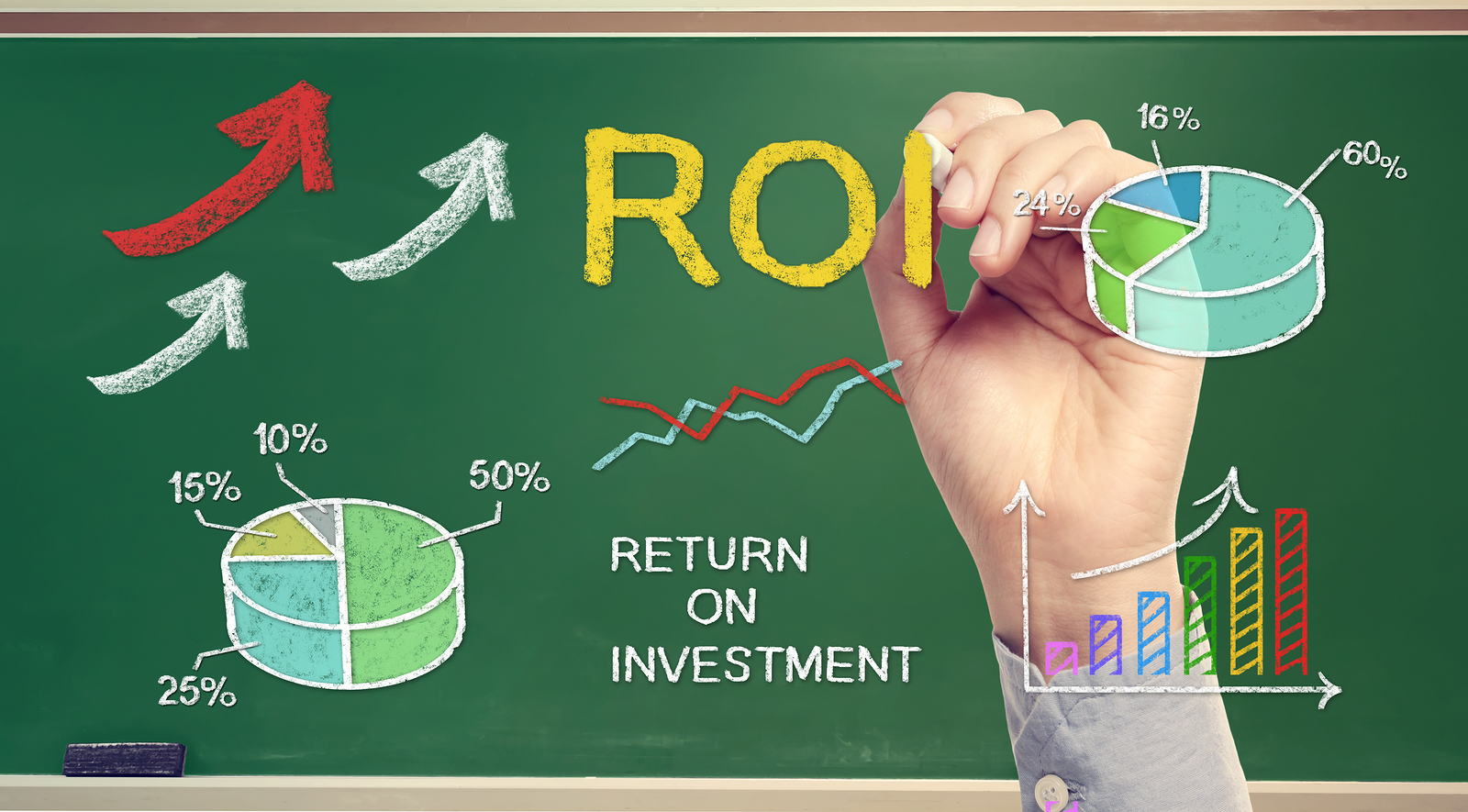 If you agree that the people are the foundation of your organization's success – or failure – this is a book you must read!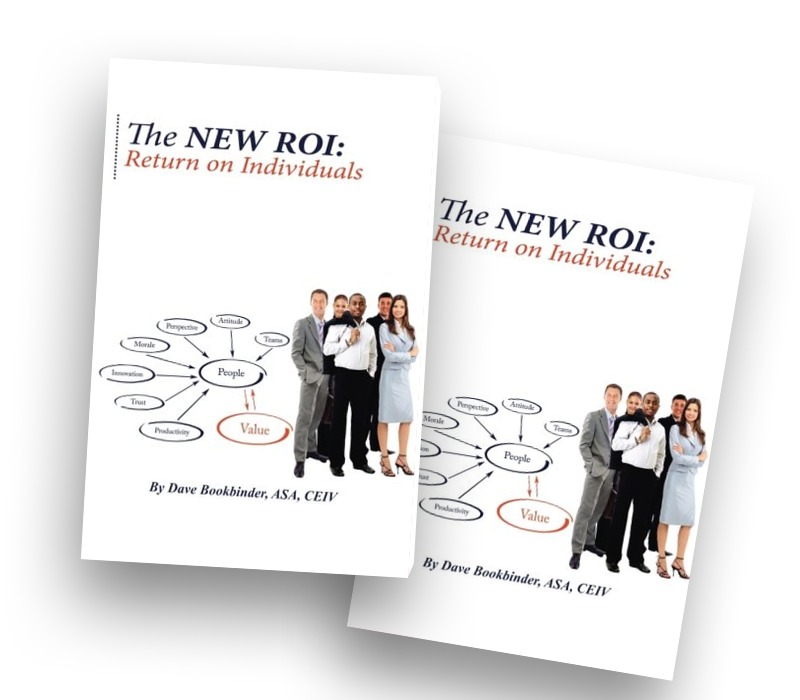 Ask anyone from the CEO to the shipping clerk about the organization's most valuable asset, and you'll get the same answer: "The people!" However, when it comes to the valuation of that organization, especially in terms of intangible assets, items like patents and trademarks wind up seeming to be more valuable. How can that be? Simple: They're more quantifiable.
In The NEW ROI: Return on Individuals, we delve into placing a more quantifiable value on the human capital asset – the most valuable asset in every organization. Additionally, we explore universal ways to promote even greater workforce value including creating difference makers, increasing employee success, improving happiness, reducing toxic employees, generating innovation by building trust, embracing and improving corporate culture, and much more.
Do you know who your rock star employees are and how to improve employee engagement and employee morale?
Want to keep your top performers happy and productive?
Do you actually know the real cost of toxic employees to your bottom line and profitability?
Why do some teams succeed while others fail… even within the same organization?
What is the impact of and on human capital during mergers and acquisitions? How do trust and happiness impact your employees and their ability to be more innovative?
What is resiliency in business and why is it important? How high is your cost of turnover and what can you do to reduce it?
Author Dave Bookbinder, along with over 20 collaborators – all highly regarded in their respective fields – cover these topics and answer these questions in an effort to quantify the human capital value. But it goes much deeper than simply trying to place an actual number on employees.
Whether you are a CEO, on a leadership team, in middle management, or are an employee who wants to see their company not just succeed but thrive, you will gain incredible insight into how the lifeblood of every organization – the human capital asset – operates and what you can do to improve and enhance the success of your employees and ultimately your organization and its bottom line.
Nothing gets done in any organization without people – your human capital – and improving the productivity of every employee at every level is the key to boosting profitability, and as you'll learn, at the same time boosting employee morale. Higher morale generates even greater productivity which, in turn, improves your bottom line. It's an upward spiral that you'll want to harness.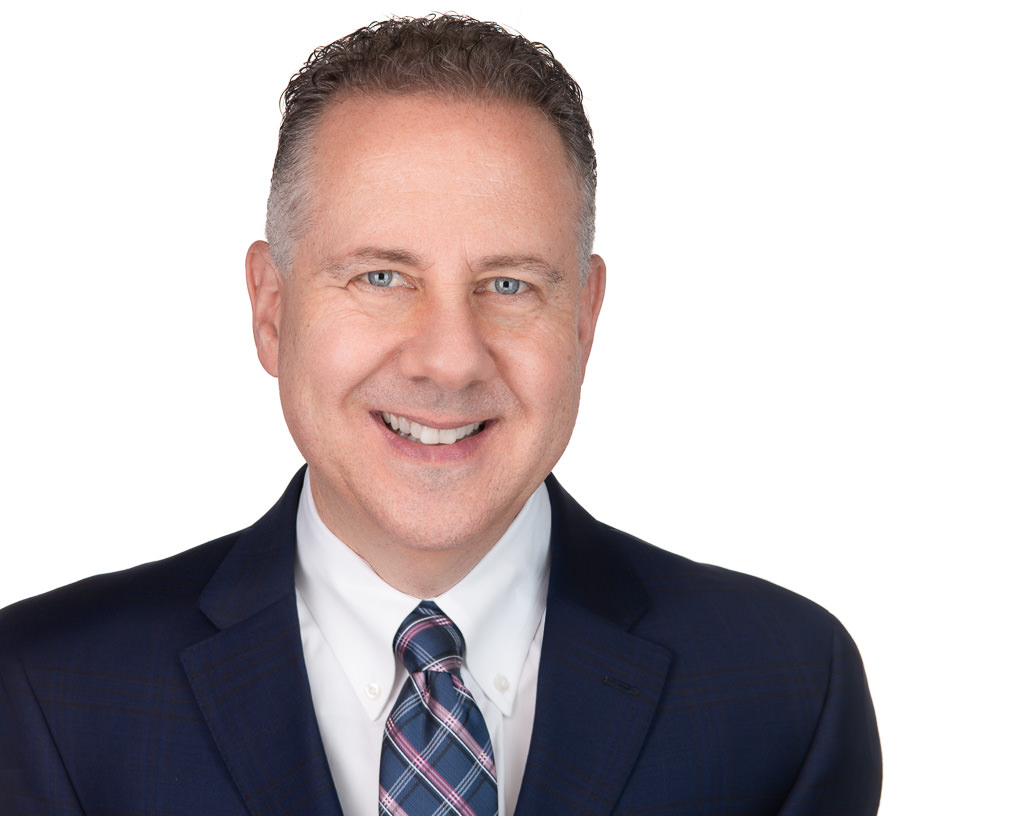 From The Author
As someone who's regularly involved in the valuation of intangible assets, I'm often asked which intangible asset is the most valuable to a company. I've always believed that it's the people. But sometimes it's just hard to quantify exactly what that value is.
And as someone who has tried to quantify the value of people for a large part of my career, I can tell you it's usually the other intangibles, like patents or trademarks that mathematically wind up proving to be more valuable assets.
Why?
Simple. They're more quantifiable. While there are formulas on how to value people, they do not tell the whole story.
This book documents my quest to find greater meaning in the context of valuing people and the contribution of people to the value of an enterprise. Throughout this book, I share the data that I've uncovered and the conversations that I've had in collaborating with various thought leaders throughout North America.
I hope that the information we cover will broaden your perspective and put an exclamation point to the concept that, quantifiable or not, people are truly the most important asset of any business and that value ultimately drives success across the board – oftentimes in the increased valuation of the enterprise!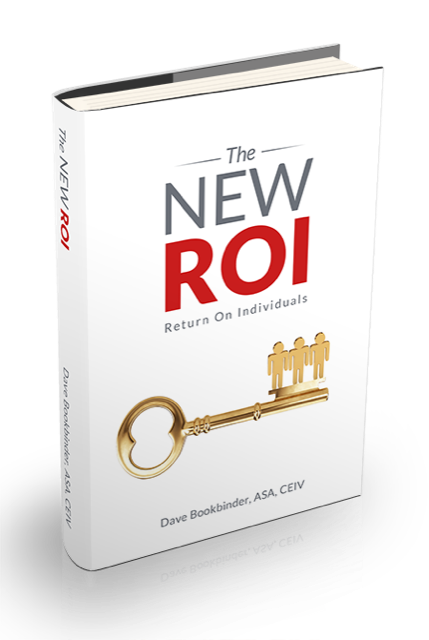 The NEW ROI: Return on Individuals is a refreshingly clear and simple explanation of something that has eluded many scholars as well as the entire world of financial accounting and valuation. The book blends innovative ideas and concepts with practical and surprisingly easy to grasp stories, punctuated by hard number metrics and formulas.. This book is for everyone who can see that people truly create and drive value but have been frustrated with modern reporting and accounting methods that measure only workforce cost not its' value add. If only modern accounting were written in such a clear and compelling way. 
Jeff Higgins
Dave's book is fun to read and examines the soft issues of organizational science with the cold, hard "science" of valuation. He takes on a myriad of topics that we can all relate to – from purple squirrels to toxic employees to the customer service rep that goes above and beyond and is the glue to the organization. While not always easy to value, Mr. Bookbinder is able to explain and bring to the forefront the issues concerning the human capital component in determining corporate valuation. Mr. Bookbinder hits on many of the big issues in modern day corporate America. He examines how to create a corporate culture, finding the "right" employees, defining your corporate culture, building trust. All of these are difficult issues that all managers and organizations find challenging every day. I cut out the quote from Gandhi on positive thoughts and keep it on my desk. His book is full of helpful anecdotes, bullet point lists and additional links that all organizations and managers will find to be a valuable resource. The chapter on Grit and the Grit score (I was a 4.8) are fun and useful for people in all walks of life. Mr. Bookbinder's last two chapters provide rigor and potential quantitative approaches toward measuring the impact of employee satisfaction and engagement upon valuation. I highly recommend this book for business owners, managers, employees and of course valuation experts. The book will open a lot of eyes and add several new considerations to valuation and the importance of employees. Hopefully, this book will help the reader find and identify the "acorns" that attract that elusive purple squirrel. 
Amazon Reader
As a practicing lawyer and business person, The NEW ROI makes sense to me on so many levels. In our businesses, we're measuring thousands of data points and plunking them into an algorithm to drive decisions. There's nothing wrong with that, so long as we understand that the algorithm cannot do it all. Human talent matters. Human insight matters. The NEW ROI gives a voice to the necessary human part of the "business success" equation, and does so in terms that every business person will understand. And, its push for meaningful financial reporting of ROI opens up interesting challenges for the audit, accounting, and legal professionals. Read it. 
Amazon Reader
Maybe you can't put a price on love, but we all know how expensive a divorce can be. In The NEW ROI, David shares an expert perspective on how to value the seemingly intangible bond between employee and employer, and how to rethink our definition of 'value' when it comes to human capital. Companies are gradually moving away from treating the workforce as overhead, and tapping into the latent potential of people. David's NEW ROI provides some solid approaches for bridging the gap between the warm-and-fuzzy approach of HR and the brutalist perspective of accounting.
Amazon Reader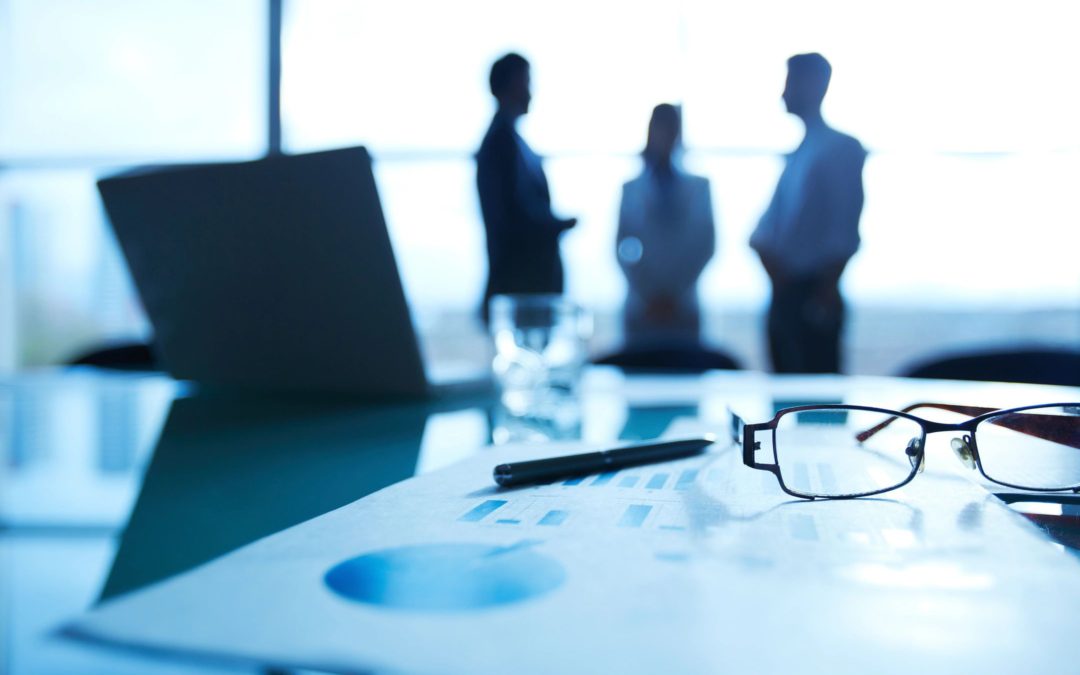 According to the Family Business Resource Center, family-owned businesses employ 60% of the U.S. workforce and are responsible for 78% of new jobs created in the U.S. However, generational transfers of ownership are extremely difficult. For example, just 30% of family-owned businesses successfully pass from the first generation to the second generation, while only 12% of family-owned businesses successfully pass from the second generation to the third generation. It is also disturbing that 47% of family business owners expect to retire in the next five years but do not have a succession plan in place.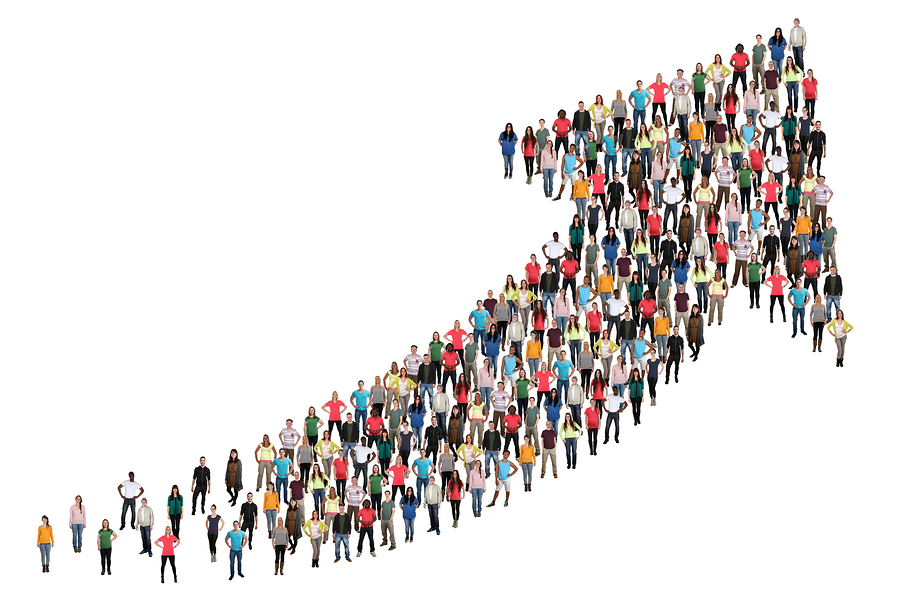 Maximizing shareholder value is generally accepted as the benchmark for determining the success of a business. While there may be several paths to value creation, one clearly measurable path is through maximizing profitability. You don't need a MBA in finance to know...